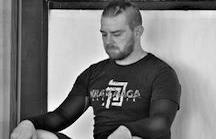 Ivo B
Ivo's extensive martial arts background spans three decades and starts in Bulgaria. He started training in Sambo and Kyokushin karate in 1985, at the age of 4, and hasn't stopped adding to his martial arts knowledge since. Moving to the united states in 1993 has opened the door to many more opportunities for expanding on his skillset. He's earned black belts in Sambo, Karate, Judo, Savate, Taekwondo (3rd degree) and Bando. Presently Ivo is training in Jiu-Jitsu, Inosanto Kali, Jeet Kune Do, and Silat.
He's a red tassel in Muay Thai and has recently earned his 2nd degree black belt in Krav Maga under John Whitman.
Ivo has been in the ring more than a few times with competitions in judo (4-0), MMA (14-0), Muay Thai (11-0), Kickboxing (3-1), Taekwondo (85-8). he is also a national champion in Savate Boxe Francaise. Krav Maga, according to Ivo, is like a gateway to all martial arts. once you grasp its potential it's like a lightbulb goes on: everything else becomes so much easier to retain. Krav Maga is accessible to everyone regardless of shape, gender, or size - it is unlike anything else. Titan gym is unique in that it is a community of individuals that work together to constantly better themselves and support each other.