Master Muay Thai, Kali, And More In Our Adult Martial Arts Classes
Looking to get in great shape and learn some of the world's most effective self-defense systems? Join us at Titan Gym in Chicago and choose from 5 incredible disciplines to find the system that works best for you.
From weapons training to street self-defense, we've got you covered with our Adult Martial Arts Classes in Chicago. And no matter what program you choose, you're guaranteed to get in a great total-body workout. Learn more today!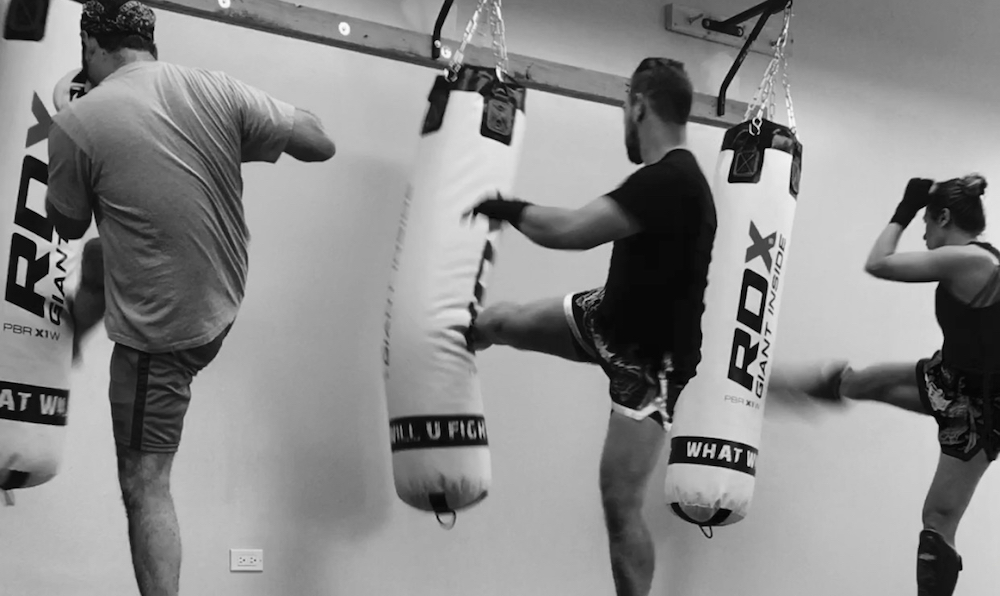 Choose From The Best Self-Defense Systems Around In Our Adult Martial Arts Classes
Don't get caught off-guard in a real-world altercation. Our Adult Martial Arts Classes in Chicago will help you stay prepared for any situation. These 60-minute classes are perfect for men and women ages 13 and older.
Our Adult Martial Arts Classes at Titan Gym include:
Muay Thai: Known as "The Art Of 8 Limbs," Muay Thai teaches you how to combine your fists, elbows, knees, and shins into one effective self-defense system. These classes combine stand-up fighting and some clinching techniques for maximum effectiveness. We focus heavily on body conditioning with jump ropes, core exercises, and body weight movements while also perfecting your strikes with pads and mitts.
Savate Boxe Francaise: Described as fencing with the hands and feet, this system includes only empty-hand techniques delivered while standing or jumping. While focusing on speed and power, Savate is also a discipline of greater distance than most, allowing you to employ offensive and defensive maneuvers without the fear of injury. We work with you to develop body control, confidence, and speed.
Kali: The Filipino Martial Arts system of stick or sword fighting. Kali teaches you how to fight with weapons or empty hand interchangeably. Weapons in this discipline are treated as an extension of the hand and include the single stick, double stick, dagger, and the rattan. Kali practitioners are known for their lightning-fast movements and efficient footwork in wielding weapons.
Jeet Kune Do: Jeet Kune Do abbreviated JKD, is an eclectic and hybrid martial art heavily influenced by the philosophy of martial artist Bruce Lee. Lee, who founded the system on July 9, 1967, referred to it as "non-classical", suggesting that JKD is a form of Chinese Kung Fu, yet without form. Unlike more traditional martial arts, Jeet Kune Do is not fixed or patterned and is a philosophy with guiding thoughts. It was named for the concept of attacking when one's opponent is about to attack. Jeet Kune Do practitioners believe in minimal movement with maximum effect.
BJJ (No Gi): Upholding the premise that most of the advantage of a larger, stronger opponent comes from superior reach and more powerful strikes, both of which are mitigated when grappling on the ground, Brazilian jiu-jitsu emphasizes getting an opponent to the ground in order to use ground fighting techniques and submission holds involving joint-locks and chokeholds.
Training methods include technique drills in which techniques are practiced against a non-resisting partner; isolation sparring, commonly referred to as positional drilling, where only a certain technique or sets of techniques are used, and full sparring in which each opponent tries to submit their opponent using any legal technique.
Build Strength, Confidence, And Long-Lasting Success In Our Adult Martial Arts Classes
It's easy for adults to get discouraged in their workouts. Maybe you aren't seeing the results you hoped for or maybe it's just plain boring.
Not at Titan Gym.
We are proud or offer a wide range of Adult Martial Arts Classe that keep you on your toes and help you build total-body strength while you learn how to defend yourself in any situation.
Our Adult Martial Arts Classes in Chicago can help you:
Burn fat, build muscle, and get into great shape
Develop confidence in yourself at all times
Improve your situational awareness and reaction time
Walk away with an incredible feeling of self-confidence

Don't Miss Out On The Best Adult Martial Arts Classes In Chicago
If you're looking for a better way to train, don't miss out on everything we have to offer right here in Chicago. Our Adult Martial Arts Classes are helping men and women stay safe and build strength like never before.
Learn more about everything we have to offer at Titan Gym today by filling out the short form on your screen now!